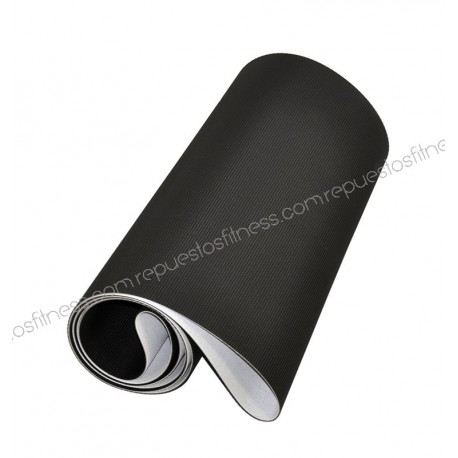  
Band Wallpaper Bh G64 Walker G641 Alpha 1.0 Treadmill
€133.10
€110.00
Sin impuesto
VAT excluded
Band Wallpaper Bh G64 Walker G641 Alpha 1.0
Parts Fitness manufactures two types of bands as for treadmills:
Abrasion resistance
Antistatic
Silent during the march
Durability in performance
Long life
Select the thickness of your band mat for treadmill
Band Wallpaper Bh G64 Walker G641 Alpha 1.0 Treadmill
Details of the main technical features of our bands mat for treadmills
| Thickness chosen | 2.1 mm | 3.8 mm |
| --- | --- | --- |
| Minimum diameter of the rollers | 30 mm | 60 mm |
| Cushioning | good | very good |
| Coefficient of friction | medium | high |
| Temperature resistance | -10 /+60 | -10 /+60 |
| Color | Black | Black |
| Superior coverage | PVC | PVC |
Parts Fitness offers telephone counseling for the installation of the new band.
Whenever you change the band, you have to verify the state of the table. If the state of the table is not suitable, we advise you to change it or rotate it if there is the possibility of using it by both sides. A table in bad condition can deteriorate more quickly the band. In case of doubt, please contact us.
Carpets need regular maintenance (tension, centering of the band,..), as well as a greased frequently with oils siliconados special, the amount and frequency of lubrication will depend on the use of the tape, the location of the center, type of lubrication used, etc
Parts Fitness recommended to use oil silicone. (Lubricants and Oils)
From the receipt of the order, we will contact with you within a maximum of 24 hours to avoid possible confusion in the choice of the band (model, series, action, ).
Our bands are compatible with the following brands;
Bh, Bodyguard, Bodytone, Cardiozone, Challenger, Circle, Cybex, Epic, Fitness Gear, Freespirit, Freemotion, Gac Planet, Gervasport, It's, Healthrider, Horizon, Image, Kettler, Keyfitness, Landice, Lifefitness, Matrix, Nautilus, Nordictrack, Pacemaster, Precor, Proform, Quinton, Reebok, Salter, Schwinn, Sole, Spirit Fitness, Sportsart, Stairmaster, Startrac, Technogym, Tempo, Tunturi, Vision Fitness, Weslo.
If you do not find the band you need, or need more information, please contact us.
604 182 66